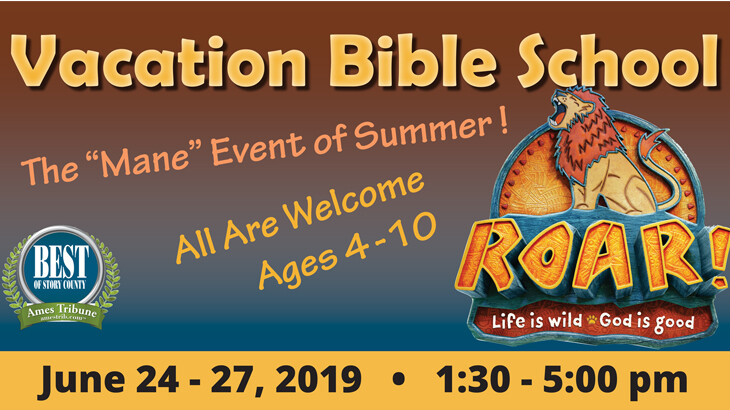 Daily, from 06/24/2019 to 06/27/2019
,
1:30 PM - 5:00 PM
June 24-27 . . 1:30-5:00 pm
This year's Vacation Bible School Theme is:
"Roar – Life is Wild – God is Good"
This epic African adventure engages the whole herd. At Roar, kids explore God's goodness and celebrate a ferocious faith that powers them through this wild life. Anyone aged 4-years (or entering Pre-K in the Fall) through age 10 (or entering 5th grade in the Fall) is invited! A final program followed by an Ice Cream Social will be held the last day -- at 7:00 pm, Thursday, June 27. Through our VBS program at Bethesda our hope is that your child will grow in their faith through:
* Age-appropriate Bible studies
* Great leaders
* Exciting worship with fun songs and skits
* Creative activities and snacks
The cost of VBS will be $15 per student with a maximum of $25 per family. Each child (registered by Sunday, June 9) will be provided a t-shirt on the final day of VBS to be worn for pictures and during the final program on June 24. Please indicate t-shirt size when registering. Click here to register!